In this article an infectious diseases pharmacist compares Paxlovid versus molnupiravir – the first oral COVID-19 antivirals with FDA Emergency Use Authorization.
---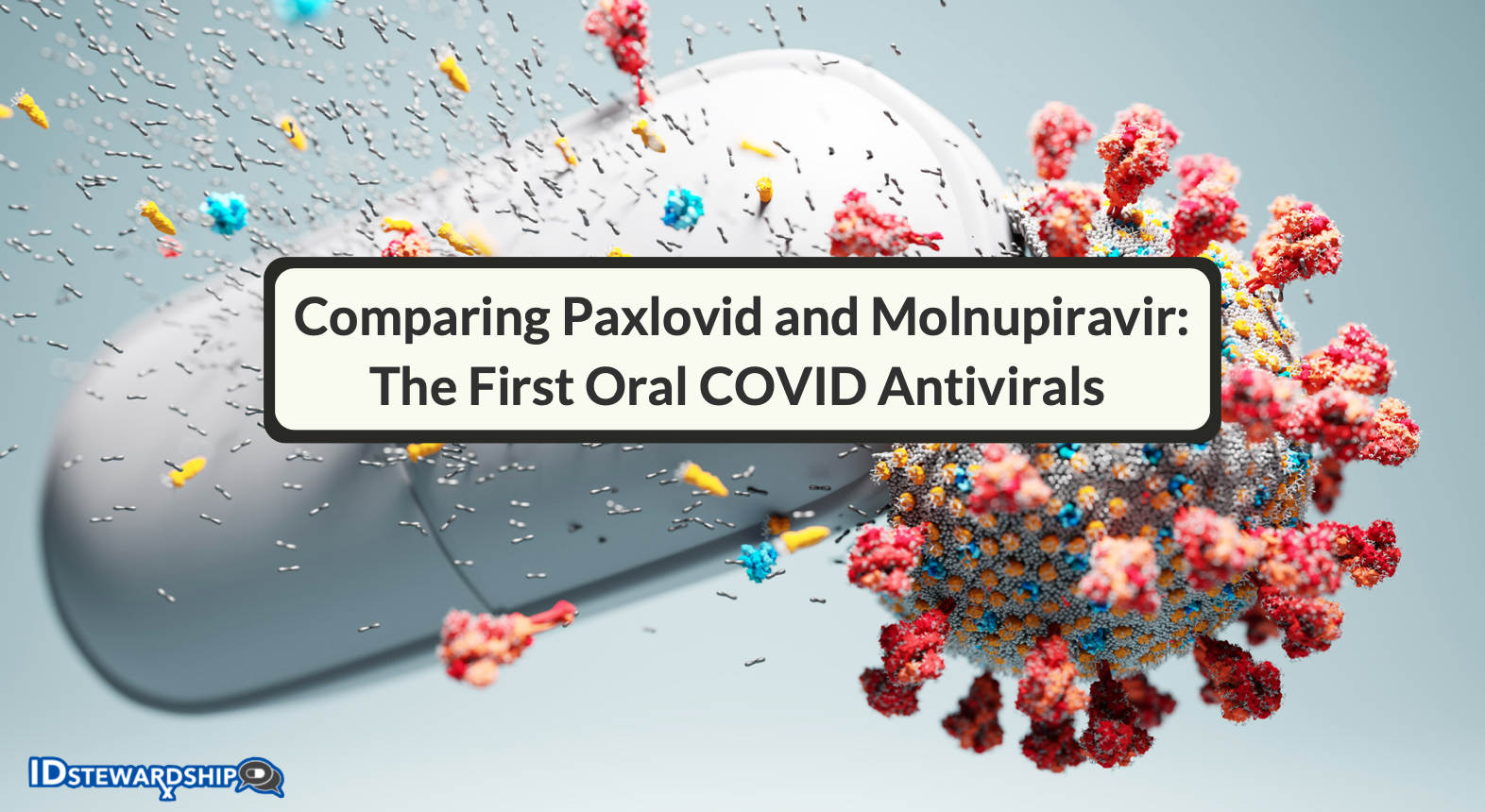 ---
Authored By: Timothy P. Gauthier, Pharm.D., BCPS, BCIDP
---
Article Posted 24 December 2021
The FDA has released emergency use authorizations for Pfizer's COVID-19 pill Paxlovid (generic name nirmatrelvir/ ritonavir) as well as Merck's COVID-19 pill molnupiravir (UK brand name Lagevrio). There are a lot of questions about these two new oral COVID-19 therapies.  This article provides an overview comparing the two.
Note that things are evolving rapidly and the content presented here may be rendered inaccurate or incorrect as things change. To prepare this post I have utilized the following resources, which are subject to future updates:
Of note, nirmatrelvir is the active component in Paxlovid. Ritonavir has some antiviral properties (not against the SARS-CoV-2 virus though) and works as a booster to increase nirmatrelvir concentrations. Ritonavir (RTV, Norvir) has long been used as a booster in HIV therapy regimens.
---
LEARN ANTIBIOTICS
---
Here is a table providing a comparison of Paxlovid to molnupiravir…
Generic Name

Nirmatrelvir/ritonavir

Molnupiravir

Branded Names

Paxlovid

Lagevrio

Manufacturer

Pfizer

Merck

FDA EUA Date

12/22/2021

12/23/2021

Drug Class

SARS-CoV-2 main protease inhibitor (nirmatrelvir)

HIV-1 protease inhibitor & CYP3A inhibitor (ritonavir)

Nucleoside analogue

Drug Type

Antiviral

Antiviral

Mechanism of Action versus SARS-CoV-2

Inhibits mPRO, preventing viral replication

Viral lethal mutagenesis

Cross-Resistance with Anti-SARS-CoV-2 Monoclonal Antibodies

Not expected

Not Expected

Cross-Resistance with Remdesivir

Not Expected

Not Expected

Delta Variant Activity

Yes

Yes

Omicron Variant Activity

Expected

Expected

Indication

At risk patients with mild-moderate COVID-19

At risk patients with mild-moderate COVID-19

Age Limit

Must be 12 years or older

Must be 18 years or older

Weight Limit

Must be 40 kg or more

None stated

Need Positive Direct SARS-CoV-2 Test?

Yes

Yes

Can Initiate if Hospitalized for COVID-19?

No

No

Can Continue if Hospitalized During Therapy?

Yes

Yes

Authorized for Pre or Post Exposure Prophylaxis?

No

No

Must Provide Patient/ Caregiver Fact Sheet?

Yes

Yes

MedWatch Med Errors/ Severe Adverse Event Reporting Required?

Yes

Yes

When to Start

Within 5 days symptom onset

Within 5 days symptom onset

Route

Oral

Oral

Dose

300 mg nirmatrelvir with

100 mg ritonavir every 12 hours

800 mg every 12 hours

Pills per Dose

3

4

Duration of Therapy

5 days

5 days

Pill Imprint

"PFE" and "3CL" for nirmatrelvir

"a" and "NK" for ritonavir

"82"

How Supplied

5 daily dose blister cards

40 count bottles

Storage

Room Temperature

Room Temperature

NDC

NDC-0069-1085-30

NDC-0069-1085-06

NDC-0006-5055-06

NDC-0006-5055-07

Take with Food?

With or without, but high fat meal increases absorption ~15%

With or without

Okay to Crush?

No

No

Renal Dose Adjustment

For eGFR 30 to below 60

Avoid if eGFR below 30

None

Hepatic Dose Adjustment

Avoid in severe hepatic impairment (Child-Pugh Class C)

None

Contraindications

Hypersensitivity to ingredients

Use with certain drugs that have CYP3A4 interactions

None listed

Warnings

Beware drug interactions

Hepatotoxicity

HIV-1 drug resistance in patients with HIV-1 infection

Embryo-fetal toxicity

Bone and cartilage toxicity

Most Common Adverse Reactions

Dysguesia, diarrhea, hypertension, myalgia

Diarrhea, nausea, dizziness

Special Populations

No human data on use in pregnancy or breastfeeding

Not recommended in pregnancy

Not recommended if breastfeeding

(Has pregnancy surveillance program)

Drug Interactions

Many, see below

None identified to date

HCP Fact Sheet Length

29 pages

18 pages

Courses Available in First US Allocation

64,970 courses

300,620 courses

Prescription Needed?

Yes

Yes

Cost to US Gov't
Cost to Patient

$0

$0
Brief Summary of Clinical Study Data – Molnupiravir
MOVe-OUT Trial randomized 1,433 high-risk non-hospitalized adult subjects with mild-moderate COVID-19. 709 patients received molnupiravir and 699 patients received placebo. All-cause hospitalization 24 hours or more for acute care or death at day 29 was 6.8% for molnupiravir (n=48) and 9.7% for placebo (n=68). Mortality at day 29 was 0.1% for molnupiravir (n=1) and 1.3% for placebo (n=9).
Brief Summary of Clinical Study – Paxlovid
EPIC-HR Trial randomized 2,246 high-risk non-hospitalized symptomatic adults with COVID-19. 1,039 patients received Paxlovid and 1,046 received placebo. In the modified intent to treat analysis, COVID-19 related hospitalization or death from any cause through day 28 was 0.8% in the Paxlovid arm (n=8) and 6.3% in the placebo arm (n=66). All cause mortality through day 28 was 0% in the Paxlovid arm and 1.1% in the placebo arm (n=12).
Paxlovid versus molnupiravir – Figure 1 provided in HCP Fact Sheet
Paxlovid HCP Fact Sheet Details
Molnupiravir HCP Fact Sheet Details
Paxlovid drug-drug interactions listed as contraindications
CYP3A inducers will speed up the metabolism (i.e. decrease concentrations) of drugs that use the CYP3A4 pathway. CYP3A inhibitors will slow the metabolism (i.e., increase concentrations) of drugs that use the CYP3A4 pathway. CYP3A4 substrates use the CYP3A4 pathway.
Contraindicated drugs highly dependent on CYP3A for clearance:

Alpha1-adrenoreceptor antagonist: alfuzosin
Analgesics: pethidine, piroxicam, propoxyphene
Antianginal: ranolazine
Antiarrhythmic: amiodarone, dronedarone, flecainide, propafenone, quinidine
Anti-gout: colchicine
Antipsychotics: lurasidone, pimozide, clozapine
Ergot derivatives: dihydroergotamine, ergotamine, methylergonovine
HMG-CoA reductase inhibitors: lovastatin, simvastatin
PDE5 inhibitor: sildenafil (Revatio®) when used for pulmonary arterial hypertension (PAH)
Sedative/hypnotics: triazolam, oral midazolam

Contraindicated drugs or herbals that are potent CYP3A4 inducers:

Anticancer drugs: apalutamide
Anticonvulsant: carbamazepine, phenobarbital, phenytoin
Antimycobacterials: rifampin
Herbal products: St. John's Wort (hypericum perforatum)
Of note, ritonavir in Paxlovid may reduce the efficacy of combined hormonal contraceptives. This is not a contraindication to Paxlovid use, but should be included in patient counseling when relevant. There are many drug interactions not listed here, refer to HCP Fact Sheet for more, the resources may also be helpful:
Closing comments
I hope that you have found this helpful. Please access the resources cited at the beginning of this article for the most up to date information on these new oral COVID medications.
---
RECOMMENDED TO YOU
---
---