---
---
QUESTION
How to become an antimicrobial stewardship pharmacist?
---
ANSWER
There are several ways to become an antimicrobial stewardship pharmacist. They all involve completing specialized training and/or obtaining practice experience in the areas of infectious diseases and antimicrobial stewardship.
Option 1 – Residency: This is the most standard path for pharmacists seeking to become specialists in antimicrobial stewardship. It involves completing a post-graduate year-1 (PGY1) pharmacy practice residency followed by a post-graduate year-2 (PGY2) infectious disease specialty residency. Many pharmacists with a PGY2 in infectious diseases end up in antimicrobial stewardship jobs, but some do have pure clinical infectious diseases jobs or positions with limited time dedicated to stewardship.
Option 2 – Fellowship: Infectious diseases pharmacy fellowships are less numerous than PGY2 infectious diseases residencies and typically prepare pharmacists for a career more oriented towards research or academia. Due to the significant amount of exposure to infectious diseases (and usually some exposure to antimicrobial stewardship), these fellowship-trained pharmacists are capable of stepping into a role as an antimicrobial stewardship pharmacist.
Option 3 – Practice Experience: There are many pharmacists with or without residency training that serve their organization in a capacity which includes clinical infectious diseases or antimicrobial stewardship responsibilities. As on the job experience is obtained, it can serve the pharmacist to obtain competency to step into a full-time antimicrobial stewardship pharmacist role.
Option 4 – Other: Sometimes life has a way of putting you in the right place at the right time. It is well known that some pharmacists are randomly assigned to serve as the antimicrobial stewardship pharmacist champion for their organization. These pharmacists may not have formal post-graduate training or experience, but may seek out additional training through programs offered through the Society of Infectious Diseases Pharmacists or the Making A Difference in Infectious Diseases certificate programs. In hospitals that do not have the workload to justify a full time equivalent pharmacist dedicated towards antimicrobial stewardship, it is more likely to see pharmacists without formal training taking on antimicrobial stewardship responsibilities as part of their role.
---
READINGS / RESOURCES
---
ANSWERED BY
Timothy P. Gauthier, Pharm.D., BCPS-AQ ID
---
Q&A DISCLAIMER
The ID PharmD Q&A pages attempt to answer common pharmacy questions by providing the perspective and opinion of a trained expert with substantial experience relevant to the question. That noted, these answers are not provided as all-inclusive comprehensive responses.
---
For more…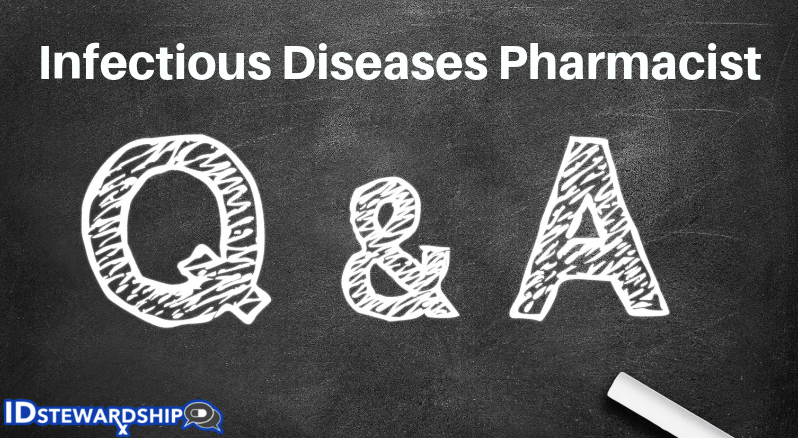 ---